Hugs
Meryl & Trey's Wedding 3.26.17
Hi Ashley, I wanted to send you a note to thank you for the GORGEOUS flowers on my wedding day! They were outstanding and perfect and somehow exactly what I wanted, even though I didn't know how to describe what I wanted to you because I'm pretty florally ignorant :) You magically understood the essence of what I wanted and DELIVERED. They were beautiful and colorful and fun and I loved the special touches (kumquats!!! eggplants!!! herb-y boutonnieres!! THE FIREPLACE OH MY GOD!!!) I wish I could've been a guest at my own wedding so I would've had more time to stare at the flowers and admire their beauty! I am crossing my fingers that the photographers captured lots of flower shots! In conclusion, thank you thank you thank you thank you. You are amazing at what you do and I will be sure to recommend you to any of my friends who get married in NOLA in the future! Sincerely, Meryl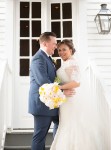 Courtney and Griffin Wedding 5.22.15
Ashley & NOLA-FLORA Ninjas, Thank you for the beautiful flowers for Grif and I's wedding. The bouquets, the boutonnieres, the church, the reception... all of it was perfect! ... Grif and I are grateful to have worked with NOLA-FLORA! XOXO, Courtney & Grif
Yoder/Call Wedding 3/28/15
Ashley and Team, You all did a fabulous job on the flowers this past weekend for the Yoder-Call Wedding! Everything was absolutely stunning! Alissa and Jack were very happy with everything. I really appreciate all of your hard work and will definitely recommend you future clients, Thank you again for making their day extra special! Sincerely, Christopher Gutherie Christopher Jeffery Gutherie Events & Design, LLC
Yacaman/Struble Wedding 5.23.15
Hello Ashley, Just wanted to let you know the flowers were beautiful! The cake was gorgeous because of your flowers and the reception hall was an alluring room to walk into. The bouquets were exquisite! Honestly, I'm running out of words that describe the beauty you provided for our wedding but I want to thank you very much for your work. Thank you, Jazmin
Miller/Garza Wedding 4.18.15
Ashley, OH MY GOODNESS! The Flowers that you did for our daughter's wedding on Saturday were AMAZING! Everyone was asking "Who did the flowers?" You created a magical environment and I cannot thank you enough for all of your patience and hard work. It was beyond our expectations! Thank you for sending someone to add the pew flowers for us at the last hour.... Again, thank you for creating an incredible environment for our celebration. I am so grateful for all that you did. Sincerely, Cary Miller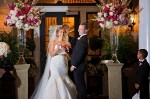 Cortez / Landry Wedding 5.15.15
Ashley, Mrs. Debbie, and the Entire NOLA FLORA Team, Raymond and I would like to THANK YOU all for your assistance in preparing the MOST beautiful flowers/arrangements ever for our wedding day! We, along with our guests were in amazement of how perfect the flowers were. The details, (lace/feathers) and attention to the color was everything I envisioned and even more. The day the flowers were delivered-I stool over them in awe of their beauty! I am SO thankful again for your attention to detail, and our every request. The team at NOLA-FLORA was a blessing to work with. Mrs. Debbie was a pure delight-we are so happy we came across her the day we had a LOST vision...LOL! She was a true angel. We are so appreciative to have worked with THE BEST florist in the New Orleans area. You made our day THAT much more special. No worries, I will be by to visit soon with some goodies. I can't wait to thank you all in person! Again, so grateful. Sincerely, Paige, Raymond, and Mary (Mother of the Bride).
June 2008Ashley - I'm sorry to only now be taking the time to compliment the beauty of our wedding flowers! I was so incredibly happy with my bouquet and those of my bridesmaids. They were everything I hoped they'd be! I loved how your incorporated the locket in mine.... and I'm so happy to have made arrangements to have it preserved... it is certainly keepsake worthy! I also wanted to send you a picture my photographer took of the bouquet... it really captured how FABULOUS it was!Thanks again for your creative efforet.... and for being so enjoyeable to work with. Never hesitate to consider me a glowing recommendation.Warm regards, Rachel
May 2013Ashley,Thank you so much for the important role you played in Brittany and Billy's wedding. The flowers were beautiful and I really enjoyed working with you. Your personal touch and willingness to go above and beyond to make this day special was well noted. You far exceeded our expectations and this truly was Brittany's dream wedding.Thanks so much for everything!Tina
May 2013Ashley,I just wanted to drop you a note to thank you so much for the floral designs you did for my wedding. The flowers were AMAZING!!! I received so many compliments! The hand flowers, centerpieces, and other decor was everything that I envisioned and so much more. I am so so appreciative and thankful. All of your work was top notch, from the initial consultation to the detailed responses to my many questions to the final breathtaking flowers. Please let me know if I can post positive feedback anywhere; I would definitely recommend you to anyone and everyone! I am so sorry that I missed you dropping off flowers to the Windsor Court because I would have loved for you to see my (and my bridesmaids') reactions!Best,Maria C.
May 2013Ashley & team -I just wanted to drop you a quick note to thank you for all of the truly breathtaking work you did for our wedding weekend - both on Thursday and Friday, everything was perfect and our guests were truly stunned by the beauty of both venues! My bouquet alone was one of the most stunning I have ever seen - all of my vendors agreed as well! Adam and I truly appreciate your help in making our big day so special! Best wishes,Alison ZP
December 2011Just wanted to say thanks so much for all of the gorgeous flowers for my bridals and our wedding! Everything was absolutely gorgeous and just how I envisioned it! You made our day so special! We loved it all!! You Rock! ;)Tara Ermatinger LinSt. Joseph's and Harrah's Ballroom
June 2011Ashley -Thank you so much for the beautiful flowers you made for my mother. They were absolutely gorgeous! It meant the world to me. Thank you again for all you do for me. ~ ChristieThe Maison Dupuy
Ashley -Thank you so much for my beautiful weddings flowers! I loved all the bouquets and boutonnieres and so did the moms and bridesmaids. The flowers photographed beautifully next to the dresses and ties. You truly have a gift! Thank you to you and Robert for all your hard work setting up. The church and Southern Oaks looked beautiful, and I would not have been happier with the way it all turned out! We are so glad y'all came to our wedding and hope you enjoyed it as much as we did.Thanks again!Love,Angie and Chris
Dear Ashley,I wanted to thank you for the lovely job you did with the flowers for our wedding. They were perfect!! My bouquet was gorgeous, the cake looked beautiful, the candles actually stayed lit for part of the night :) .... it was a magical evening and I thank you for all you did to help make that happen. Thank you .... truly!Best regards,Shannon (and Dave) Kelloggestimonial Text
Thank you for making this a wonderful experience in welcoming our film crew to shoot in your neighborhood!~ Final Destination IV, Location Department
To Ashley (and the NOLA flora team!),We'd like to say a huge thank you for our beautiful wedding flowers! They were just perfect and your service is fantastic! For helping to make our wedding day perfect, wishing you all the success you deserve. Debra and Jake
January 2010Dear Ashley,All of the flowers for our wedding were absolutely gorgeous!! Thank you so much for all your hard work to help make our special day so beautiful.The flowers were exactly how we had imagined them.... they really helped to make our wedding day perfect! Thank you again for everything.Always,Meaghan and Kyle
June 2009Hey Ashley,I wanted to shoot you a quick email to say thanks for the GORGEOUS flowers. There were so many compliments on them, but all I did was blabber, and you turned it into beautiful bouquets, arrangements, etc. I'm attaching a couple of snapshots that show just how beautiful the bouquets were with the green dresses and everything. Hope all is well!Mary
March 2008Ashley,I know this is an embarrassingly belated thank you, but I couldn't forget to let you know how amazing the flowers were at our wedding, how much we and all of our guests loved them. Not only were they beatufiul in person but they really brought so much "pop" to our pictures. From the arrangement you made for the house ( from my aunt and uncle), down to the last boutonniere, everything was done with the utmost artistic and professional detail. Thank you for a job very well done. Keep up the good work.All the best,Anna Rosy's Jazz Hallestimonial Text
March 2008Dear Ashley, Thank you so much for the beautiful job you did on my flowers. Everything from the bouquets to the set up at the Montegut was truly amazing. I will never forget you and the way my wedding looked, courtesy of NOLA Flora!I will be sure to recommend you to anyone I know getting married in N.O.Gratefully,Ally
May 2007Ashley:Just wanted to drop you a line to thank you for the beauitful job you did with the flowers!!! And when I say beautiful, I mean so-unbelievably-out-of-this-world beautiful! I was amazed. Truly. I can't even articulate how much I loved them! I wish I had more pictures of everything. The atmosphere all came together perfectly and that was mostly due to YOU! I'm so glad we got the opportunity to work with you.... it was a wonderful experience. You did a great job taking our random thoughts and turning them into an amazingly cohesive creation beyond what we could have ever imagined. My mom and I could not believe how GREAT everything looked!The bouquets were amazing. And I don't know if you saw the pictures or not but they looked even better with the dresses... you hit that dead on. MY bouquet was amazing. The tables and the centerpieces were gorgeous.... the "altar" installations were sooo pretty as well. So perfect for the setting. Everything fit together just right. So. I have been recommending you to everyone I know and will continue to do so... it certainly wasn't just my mom and I who noticed how pretty the flowers were! And if you ever need anything from me, you just let me know. It was awesome working with you and I hope I get to do it again at some point (thought not for a wedding, obviously... at least not for my own! haha).Keep in touch,Jacee & Chris